Launching September 2022
Carnegie Science Center, Pittsburgh, PA
U.S. Premiere
__________
IMAX Victoria, Victoria, BC
Canadian Premiere

Launching September 2022
Carnegie Science Center, Pittsburgh, PA
U.S. Premiere
__________
IMAX Victoria, Victoria, BC
Canadian Premiere
Train Time
LAUNCHING THEATERS  [Updated: July 29, 2022]
Where to see Train Time
Coming soon to theaters near you.
On a stunning and kinetic rail journey across the North American continent, Train Time reveals the hidden inner workings of a modern railroad. Created for giant screens by the director of the celebrated IMAX® Experience Rocky Mountain Express and his team, Train Time is captured on 15/70mm motion picture film, the world's largest film format.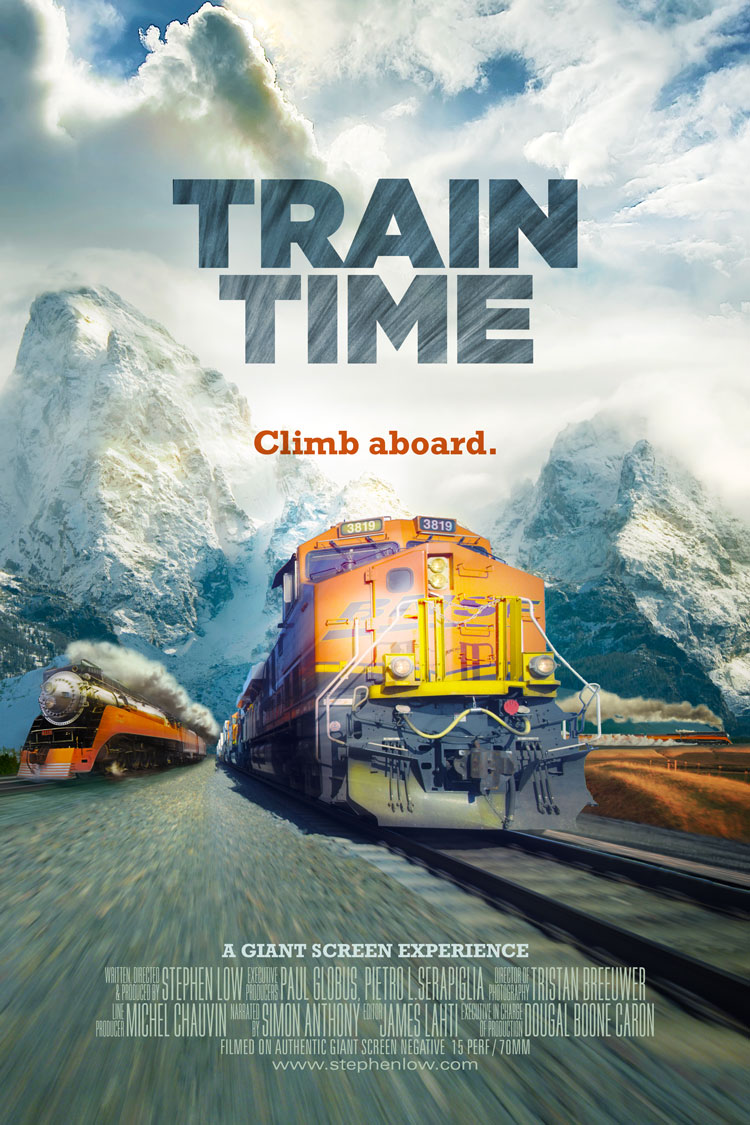 Synopsis
Train Time follows the trek of a modern freight train through the communities it serves, revealing the beauty, vastness and diversity of the American landscape and the evolving role and remarkable heritage of railroading—a profession integral to the fabric of modern civilization.
Along parallel bands of steel we race: through prairie, mountains and desert, through cities and towns and wilderness. Along the way, railroaders and the tracks and trains themselves offer up a remarkable story of engineering, of frontier-taming and community-building, human ingenuity and industry.
In a world of asphalt highways, fast cars, jet travel and instantaneous communication, the work of freight railroads seems to many perhaps as remote and anachronistic. Train Time offers a spectacular, alternative vision.
Immersing audiences in a kinetic portrait of rail, Train Time reveals a civilization shaped across the centuries by railroad time, enabled by multi-disciplinary teams of railroaders and powered by an ever-evolving fleet of powerful engines—a world rendered more prosperous and efficient by the near frictionless flow of steel wheels over steel track.
Railroads harness a fundamental technology the basic elements of which, though some two centuries old, deliver near miraculous efficiency. Railroads have become and remain a backbone of modern civilization—the heavy lifters of a busy and demanding world.
Railroading once helped spur the development of nations, tame frontiers and shape the modern world. Railroads continue to change the world every day, evolving and adapting to meet the challenges of the environment—handling heavier and more diverse loads and connecting cargo to more places on earth than ever before.
About Production
The Making of Train Time
Train Time (working title) is a massive and unique effort that promises audiences a giant screen experience unlike anything yet seen. Filmed with railway cooperation, the giant screen documentary will offer up a remarkable behind-the-scenes and immersive 'being-there' perspective of railroading.
Principal photography for the Train Time project includes a wide range of onboard and trackside filming, yard operations and aerial shooting—including multiple seasons and regions.
Now complete, principal photography for the Train Time project began in mid-July of 2015 with 6 days (July 16-21, 2015) of aerial filming. Working with a gyrostabilized Spacecam-equipped helicopter, crew and director filmed 15/70 motion picture aerial views of train operations and spectacular western landscapes spanning from Los Angeles to Seattle. Shots included trains in California on the Cajon Pass, in Tehachapi and Central Valley as well as stunning views of trains passing at gorges near the Columbia River between The Dalles and Bend in Washington and Oregon states.
Major filming was undertaken beginning early June, 2016 with IMAX camera coverage of a 5,000+ mile journey by rail—from Kansas to Los Angeles, California, from L.A. to Seattle, WA and back through the Rockies and plains to Kansas City. Winter shooting was undertaken in Montana in February 2017 with coverage of storm conditions and snow removal operations. Additional aerial photography, control center operations and locomotive onboard photography was undertaken through early 2019.
Check out this article "Behind the Scenes of Stephen Low's Train Time" (opens pdf in new window) from the giant screen industry publication LF Examiner. The article features interviews by giant screen specialist Diane Carlson with Director/Producer Stephen Low.
The Shoot. During our summer shoot in 2016, the team focused on covering locomotive operations and travel via dozens of specially-built mounting points on the locomotives. With a film production crew of a dozen and a revolving railroad crew of more than 50, the shoot aimed to secure great point-of-view footage from the train as it moved through mid-west and western states. "Safety is a key priority," highlights filmmaker Stephen Low. "Operating and shooting on a railroad is extremely complex and cooperation from the railroad in helping to make this come together has been unprecedented."
Trainset. The production team operated from four classic business cars pulled by two diesel locomotives. One car supported the camera and sound team, another served as sleeper for production crew members, while a dining and staff car and a generator car help sustain the whole operation. The rapid and relatively short (500-foot) train ran on mainline track, but had to be scheduled between regular freights—some more than a mile long.
Vistas and Vantages. A key to a great giant screen experience is getting the audience to places they wouldn't normally be able to get to. Train Time promises some unique vistas and with camera positions all over the train, the vantages are unlike anything you can actually see from the road or even from the inside of a train.
Format The film "Train Time" is captured with the IMAX camera in full, glorious 15/70 motion picture negative supplemented with ultra-high fidelity digital capture. The finished film will be exhibited in IMAX and other giant screen theaters beginning in 2018.
The crew. For the major shooting effort, the railroad support crew for Train Time encompassed a locomotive engineer, mechanical rider, a business car operations manager, assistant managers, a road foreman, conductor and others.
To capture unique footage, the team worked over several weeks with revolving personnel to keep the train operating 24-hours a day. Some of the production crew lived aboard, while some stayed in accommodations along the way with a driver and van providing ongoing shuttle and support.